Experienced interpreters and cutting edge interpretation equipment
Interpretation services
Our team of qualified interpreters is always available to bridge the language gap between you and your audience. This service is customized for your conference interpretation, training workshops consecutive translation, press breifing interpretation, and other types of events. We offer full interpretation services, including sourcing of grade A interpretation equipment, booth, radiators, transmitter, headsets, control unit, iDesk, and technicians, all in the services of our talented and experienced interpreters.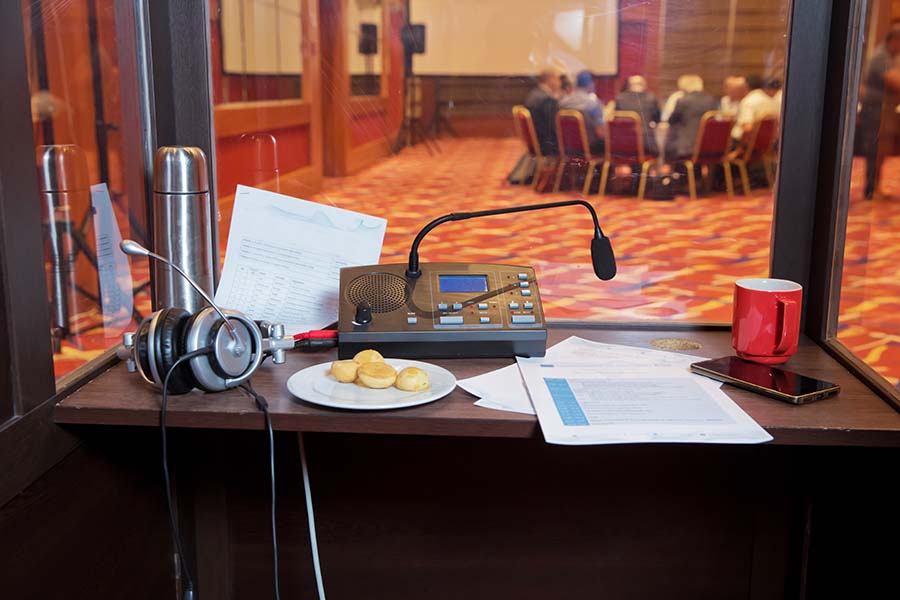 Conferences interpretation
Complete with booth and interpretation equipment, our team of experienced interpreters will be your voice to a multi-cultural audience.

Training workshops
Consecutive Translation is an essential part of training in a multi-lingual setting. Our training savvy interpreters will make sure your workshop feels native.

Video Conference interpretation
synchronized and efficient, our video conference interpretation will assure you communicate with your counterparts with full potential.

Phone Interpretation
As simple as adding us to your phone call, you can get an efficient bilingual call that answers all your questions and passes all your messages.

Personal Interpretation
For businessmen and high executives visiting the UAE on business, our personal interpreters will act as your own local bilingual guides and cultural consultants.

Interpreters Training
For long-term projects, we assure our interpreters are well screened, trained, and continuously evaluated and developed to assure their performance.
Interpretation Languages
English <> Arabic interpretation
English <> French interpretation
English <> Urdu interpretation
English <> Hindi interpretation
English <> Spanish interpretation
English <> German interpretation
Simply email
hello@hoc.ae
, call us at +971 4 424 3066, or contact us using the below button. Our services are one email away!